HALONG BAY - THE UNESCO WORLD NATURE HERITAGE SITE
Geographical position
Situated in the north-east region of Viet Nam, Ha Long Bay is a part of Bac Bo Gulf and comprises the sea area of Ha Long City, Cam Pha City and a part of Van Don island district, Quang Ninh Province. It borders Cat Ba Island to the south-west, the mainland to the west with a 120km-long coastline.
Natural Beauty
Ha Long Bay covers a total area of 1,553km², including 1,969 islands of various sizes, 989 of which have been given names. There are two kinds, limestone and schist, which are concentrated in two main zones: the south-east (belonging to Bai Tu Long Bay) and the south-west (belonging to Ha Long Bay). The average geological age of the islands is between 250 and 280 million years old.
Ha Long Bay has been called by the great national poet Nguyen Trai: "a marvel of the earth erected towards the high skies". While exploring the bay, tourists will feel lost in a legendary world of stone islands which shapes change depending on the angle and the light. There are many names given to islands according to their shapes and forms such as Hon Dau Nguoi (Human Head Islet), Hon Rong (Dragon Islet), Hon Canh Buom (Sail Islet), Hon Trong Mai (Cock and Hen Islet)… But the beauty of Halong Bay does not consist only in the forms of its mountains, islands and the colour of its waters, but also in its infinitely rich system of grottoes and caves such as: Thien Cung (Heavenly Palace Grotto), Dau Go (Driftwood Grotto), Sung Sot (Surprise Grotto), Tam Cung (Three Palace Grotto), Trinh Nu (Virgin Grotto)... Each is a grandiose and refined natural architectural creation.
Geological value
The most remarkable geological events of Ha Long Bay's history in the last 1,000 years include the advance of the sea, the raising of the bay area and the strong erosion that has formed coral and pure blue and heavily-salted water. This process of erosion by sea water has deeply engraved the stone, contributing to its fantastic beauty. Present-day Ha Long Bay is the result of this long process of geological evolution that has been influenced by so many factors. It is because of all these factors that the tourists now visiting Ha Long Bay are not only treated to one of the true wonders of the world, but also to a precious geological museum that has been naturally preserved in the open air for the last 300 million years.
Value of biological diversity
Results of scientific research show that Ha Long Bay features ecosystems of a tropical ocean region such as ecosystem of coral reefs with 232 species of coral distributed mainly in the areas of Cong Do and Bo Hung. It is also home to 81 species of gastropoda, 130 species of bivalvia, 55 species of polycheta and 57 species of crab. The ecosystem of salt water-flooded forests chiefly concentrated in the zones of Tuan Chau, Cua Luc and Ba Che has the most diversified collection of species of salt water-flooded plant in North Viet Nam. Also living in this ecosystem are a great many species of animals: migrating birds (200 species), polycheta (169 species), seaweed (91 species), reptile (10 species). Ha Long Bay also has ecosystem of tropical rain forests with various rare and precious creatures: deer, weasels, squirrels and in particular, white-tabby and red-haired monkeys. In addition, there is a system of small caves along the sea, which are the living and development places for many animals and plants: seaweed, water plant, algae, fish and shrimp. Deeper into the water, there are also many species of shrimp, fish, abalone and other sea-specialities.
Historical and cultural value
Ha Long is a place closely linked to Viet Nam's history with such famous geographical names as: Van Don (site of an ancient commercial port); Poem Mountain (with engravings of many poems by emperors and other famous people of the past); and Bach Dang River (the location of two fierce naval battles fought against foreign aggressors). This is not all, Ha Long has been proven by scientists to be one of the first cradles of human existence in the area, with such archaeological sites as Dong Mang, Xich Tho, Soi Nhu and Thoi Gieng…
On December 17, 1994, Ha Long Bay was recognised as world natural heritage for its natural beauty at the 18th meeting of the World Heritage Committee of UNESCO in Thailand. On December 12, 2000, Ha Long Bay was recognised as world natural heritage for the second time based on its geological value at the 24th meeting of the World Heritage Committee of UNESCO in Cairns, Australia. The recognised site covers an area of 434km², comprises 775 islands and forms a triangle: with Dau Go Island (Driftwood Grotto) to the west; Ba Ham Lake (Three Shelter Lake) to the south and Cong Tay Island to the east.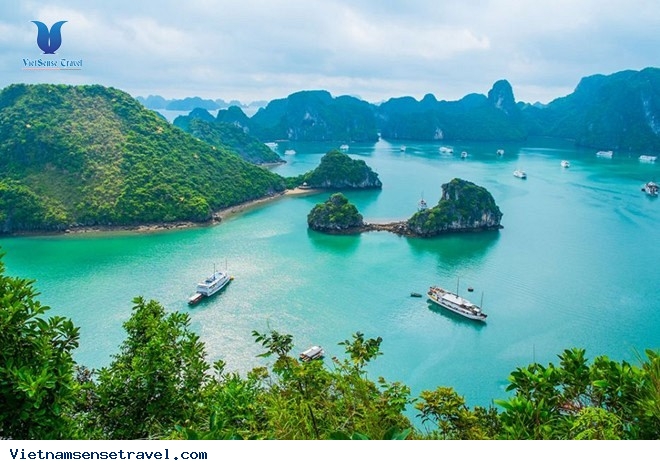 PHONG NHA - KE BANG NATIONAL PARK - THE UNESCO WORLD NATURE HERITAGE
Phong Nha – Ke Bang National Park lies in Quang Binh Province - the central Viet Nam. Covering an area of more than 343,000 hectares (heart zone of 123,300ha and buffer zone of 220,000ha), Phong Nha – Ke Bang situated in Quang Ninh, Bo Trach and Minh Hoa districts, is 50km northwest of Dong Hoi City.
Phong Nha - Ke Bang can be compared to a huge geological museum thanks to its complicated geological structure with different categories of stone including sandstone, quartz, schist, siliceous limestone, granite, granodiorite, diorite, applet, pegmatite, etc. Phong Nha-Ke Bang is the oldest and largest tropical karst formed 400 million years during the main geological periods of the Earth, bearing the original topographic and geologic characteristics. Experiencing major tectonic phases, high mountain ranges and the depressed sedimentary basins were formed. These fluctuations have also contributed to the diversity of geology, topography, geomorphology.
Phong Nha - Ke Bang karst mountains can provide a lot of valuable information about the Earth's prolonged geological process through various periods, from the Ordovician Age - Silurian Age (about 463.9 - 430 million year ago) to the Quaternary Age (1.75 million years ago). It is also noteworthy to mention a geological characteristic – the system of underground rivers and grottos in limestone mountains.
In the non-karst geomorphologic area, there are many low mountains covered by a floristic carpet. The erosion has created a number of abrasion-accumulation terraces along the valleys of the Son and Chay rivers and at the margins of the central limestone massifs. The transition terrain consists of a diversity of rock intercalated by limestone mountains.
Besides the historical value of geology, topography, geomorphology, Phong Nha - Ke Bang is also favoured with the mysterious and majestic landscapes by nature. The Phong Nha - Ke Bang Natural Park still hides various myths of nature. It also has spectacular karst caves formed for hundreds of millions of years.
Locating in the area with a high average rainfall, however, few rivers and streams can be seen because water is absorbed to run inside limestone mountains. Therefore over tens of million years, water has eroded rocks, creating numerous caves in the area. Phong Nha - Ke Bang area is noted for its cave and grotto systems as it is composed of 300 caves and grottos, divided into three main systems: Phong Nha Grottos, Vom Caves, and Ruc Mon Caves.
The Phong Nha grotto system is about 80km long in total, rising from south of Ke Bang Limestone Mountain. The main entrances are Khe Ry and En Grottoes situated at a height of 300m above sea level. The grottoes of this tree-branch system run in the direction of northeast-southwest.
The system of Vom caves is over 35km long, rising from Ruc Ca Roong Cave located at a height of 360m above sea level and ending with Vom Cave. The system runs south and north. Ruc Ca Roong River sometimes hides in mountains, sometimes appears in narrow and deep valleys, and flows into the Chay River at the entrance of Vom Cave.
The system of Ruc Mon caves that lies in the district of Minh Hoa is also a large cave. However, the information about this system is not abundant because few surveys have been conducted in this area so far.
Some typical caves and grottoes in Phong Nha - Ke Bang are Phong Nha, Tien Son and Thien Duong grottoes, Toi, En and Khe Ry caves. Especially, Son Doong Cave is considered as the largest cave in the world with 200m in height, 200m in width, at least 8.5km in length.
With its characteristics of topography, climate, soil and hydrography, Phong Nha - Ke Bang boasts a rich, diversified and unique flora. Investigations show that Phong Nha - Ke Bang has a large tropical forest floor. It covers 93.57 percent of the natural area, of which nearly 83.74 percent is covered by primeval forests. The diversity of rare and precious species of animals and plants in Phong Nha - Ke Bang is corollary of its natural conditions, and is a feature of the forest ecosystem.
Statistics show that the flora of Phong Nha - Ke Bang belongs to 2,400 species of higher plants with 208 orchid species, of which many rare and precious species are listed in Viet Nam's Red Book and IUCN's Red Book (International Union for Conservation of Nature and Natural Resources). Besides, there are 140 animal species, 356 bird species, 97 reptile species, 47 amphibian species, 162 fish species, 369 insect species, many of which are listed in Red Book of Viet Nam and IUCN such as Sao la, Mang lon, Mang Truong Son, Ha Tinh langur… Phong Nha - Ke Bang is considered a huge biological museum in Viet Nam.
Phong Nha – Ke Bang has been declared a world natural heritage by UNESCO twice in July 2003 in the 27th meeting in Paris (France) and July 2015 in the 39th meeting in Bonn (Federal Republic of Germany).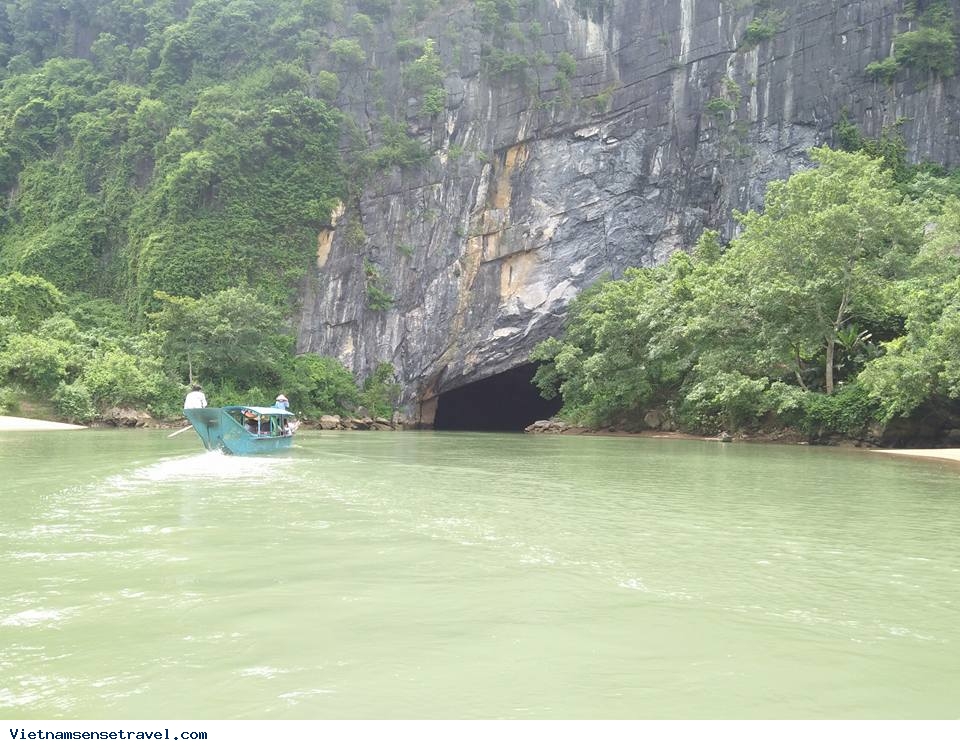 TRANG AN LANDSCAPE COMPLEX - THE UNESCO WORLD MIXED HERITAGE:
Trang An Landscape Complex covers an area of 6,172ha in districts of Hoa Lu, Gia Vien, Nho Quan, Tam Diep Town and Ninh Binh City, about 90km to the southeast of Ha Noi. The complex is surrounded by a buffer zone of 6,268ha, mostly comprising paddy rice fields and villages. As a mixed cultural and natural property, Trang An Landscape Complex contains three protected areas, including Hoa Lu Ancient Citadel Cultural – Historical Area; Trang An – Tam Coc – Bich Dong Scenic Area and Hoa Lu Special-Use Primary Forest.
Located in the humid tropical region, Trang An Landscape Complex is a mountainous area that extends in a northwest-southeast direction. To the north and northwest of Trang An lie Bai Dinh karst hills; to the southwest and the south are Dong Tam – Son Ha and Tam Coc – Bich Dong karst ranges; to the southeast and northeast is Truong Yen karst range; to the northeast and the north is Trang An karst range. River network in Trang An is well developed with Hoang Long River to the north, Chanh River to the east, He River to the south, Ben Dang River to the west and river systems of Sao Khe, Ngo Dong and Den Voi in the heart of the heritage. Trang An Area was invaded and reworked by the sea many times in the recent geological past but is now emergent on land. Landform development over a period of more than five million years produced scenic landscape of extraordinary beauty – a blend of towering cliff-bounded mountains draped in natural rain forest, surrounded by huge and deeply developed internal basins whose clear and quietly flowing waters are connected through a myriad of underground streams and caverns, many of which are navigable by small sampans carrying tourists.
Outstanding values
Cultural value
Trang An is a prominent place in Southeast Asia and the world which contains abundant archaeological evidences preserved almost intactly, mostly shells, animal bones, pottery, stone tools, kitchen floor and human remains. This is an extremely valuable documentary treasure demonstrating the way that prehistoric human interacted with natural landscape and adapted to major changes of environment over more than 30,000 years, at least since the late Ice Age. During this time, they endured some of the most turbulent climatic and geographical changes in the Earth's history. Besides, cultural and historical relics such as pagodas, temples, palaces in Trang An also contribute to consolidating many archaeological documents.
Aesthetic value
The karst tower landscape of Trang An is among the most beautiful and awe-inspiring places of its kind anywhere in the world. Dominating the landscape is a spectacular array of cone-shaped rock towers whose sheer vertical walls rise abruptly 200m above the surrounding land and water. Narrow interconnecting ridges, which have been likened to mythical giant swords, enclose circular and linear depressions whose expansive waterways are linked by gently flowing streams winding through subterranean caverns up to one kilometer in length. Visitors, carried through these passages in small traditional sampans, can enjoy the multitude of fascinating carbonate stalactites, curtains and other decorations that adorn the ceilings. Dense rain forest covers the landscape, even clinging to the cliffs and peaks. Blending naturally and beautifully with the forests are the extensive rice paddy fields bordering the rivers, creating a picturesque patchwork of color, enlivened by the presence of local farmers and fisher folk engaged in their traditional way of life. Several historic temples and pagodas, some perched high on the valley walls and peaks, signify the important spiritual and religious associations with the landscape. The countryside of the surrounding buffer zone presents a picture of traditional rural life with gardens and fields among small villages linked by simple tracks, narrow roads and a network of streams and canals.
Geological and geomorphological value
Trang An displays the end stages of karst tower landscape evolution in a humid tropical environment. The product of deep dissection of an uplifted limestone massif over a period of millions years is a remarkable array of classical karst landforms, including cones and towers, depressions (cockpits), valleys (poljes), rockfall collapse structures and deposits, subterranean caverns and rivers, caves and speleothems. A network of cross-cutting parallel faults divides the area into cells and promotes the development of enclosed depressions. An altitudinal series of erosional notches in rock walls with associated caves, wave-cut platforms, beach deposits and marine shells is evidence of former stands of sea level.
On 23 June 2014, in Doha (Qatar), World Heritage Committee of United Nations Educational, Scientific and Cultural Organization (UNESCO) recognized officially Trang An Landscape Complex as World Cultural and Natural Heritage Site based on three criteria: culture, aestheticism and geology – geomorphology.
Main tourist sites
Hoa Lu Ancient Citadel Cultural – Historical Area: King Dinh Temple, King Le Temple, Co Am Pagoda, Kim Ngan Pagoda, Duyen Ninh Pagoda, Nhat Tru Pagoda, Thien Ton Grotto…
Trang An Scenic Area: Trinh Temple, Tran Temple, Tu Tru Temple, Dia Linh Cave, Sinh Duoc Cave, May Cave, Nau Ruou Cave, Bai Dinh Pagoda Complex…
Tam Coc – Bich Dong Scenic Area: Bich Dong Pagoda, Linh Coc Pagoda, Thai Vi Temple, Thien Huong Grotto, Tien Grotto, Thien Ha Grotto, But Cave, Mua Cave, Ca Cave, Thung Nham, Thung Nang, Co Vien Lau Ancient Village…
Source: Vietnam National Administration of Tourism