VIETNAM STREET FOOD HINT
Vietnamese people balance expert when they apply the theory of balance in everything, from the mobile vendor shop you can see on the streets, to national cuisine. When they eat something heavy to be absorbed like meat, we balance the taste with something light and fresh like veggies. This feature also can be explained as a way they symbolize the nature in their dishes, like the mountain and the sea.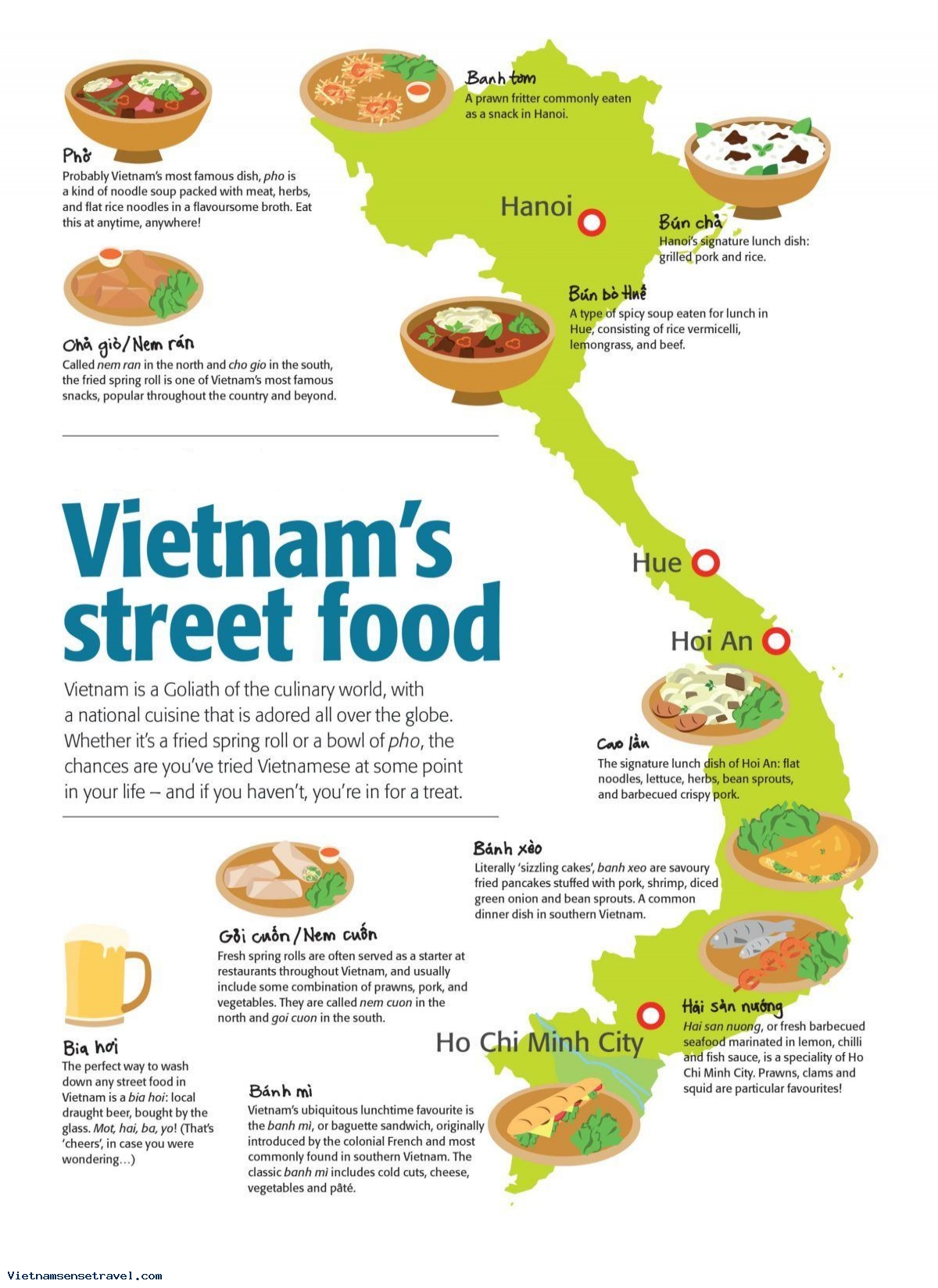 Generally speaking, you can find any of these following dishes in any place in Vietnam because their delicious tastes made themselves popular. However, there is no better place than its origin. Do find them in their authentic places to try and you know why they are well-known. Why do we call it a hint? Well, a nation delicacy is like a treasure. We don't have a guideline for you, we just provide you as many hints as possible, and the other part is all yours.
NORTHERN VIETNAM STREET FOOD
Mother nature gave this region magnificent mountains, picturesque valleys, shining golden rice terraces, curvy rivers and roads. Northern Vietnam has 4 seasons in a year, thus the food varies and changes season by season. Due to the cold weather feature, Northern cuisine tastes more savory than Central and Southern. Take a look at these following specialties
PHO (NOODLE SOUP)
There has been a funny dispute about Pho origin among Northern people which is whether Pho was from Nam Dinh province or Hanoi the capital of the country. Well said, it makes senses since there are famous Pho brands from both of those 2 places all over Vietnam. Tourists have gotten to know this world famous dish of Vietnam for times already and this one is definitely on the to-eat list of any travelers when coming to Vietnam, especially the North. Nowadays, Vietnamese people often go to the restaurant to have Pho served because it takes time to have a full Pho bowl, from the stage when you prepare the meat, boiling the bones to make a soup, preparing veggies to the stage of making a noodle. Next time if any of your Vietnamese friends cook a home-made Pho for you, do appreciate their effort, because it could take time a whole day to make that bowl for you, Pho buddy!
Where to find:
• Pho Thin, 13 Lo Duc street, Ngo Thi Nham, Hai Ba Trung district, Hanoi
• Pho 10 Ly Quoc Su, 10 Ly Quoc Su street, Hang Trong, Hoan Kiem district, Hanoi
• Pho Ngoc Vuong (Nam Dinh style), 106-108/G22, 108G22 Hung Thuc Khang street, Ba Dinh district, Hanoi
"Pho" Facts:
• Pho in central and south of Vietnam is different from pho found in the North. The noodles they use is of the "hu tieu" type, which is much thinner and chewier.
• Besides the traditional Pho, there are also a couple more choices of pho like Vietnamese rolled noodle (pho cuon) or fried pho noodle (pho xao).
BUN CHA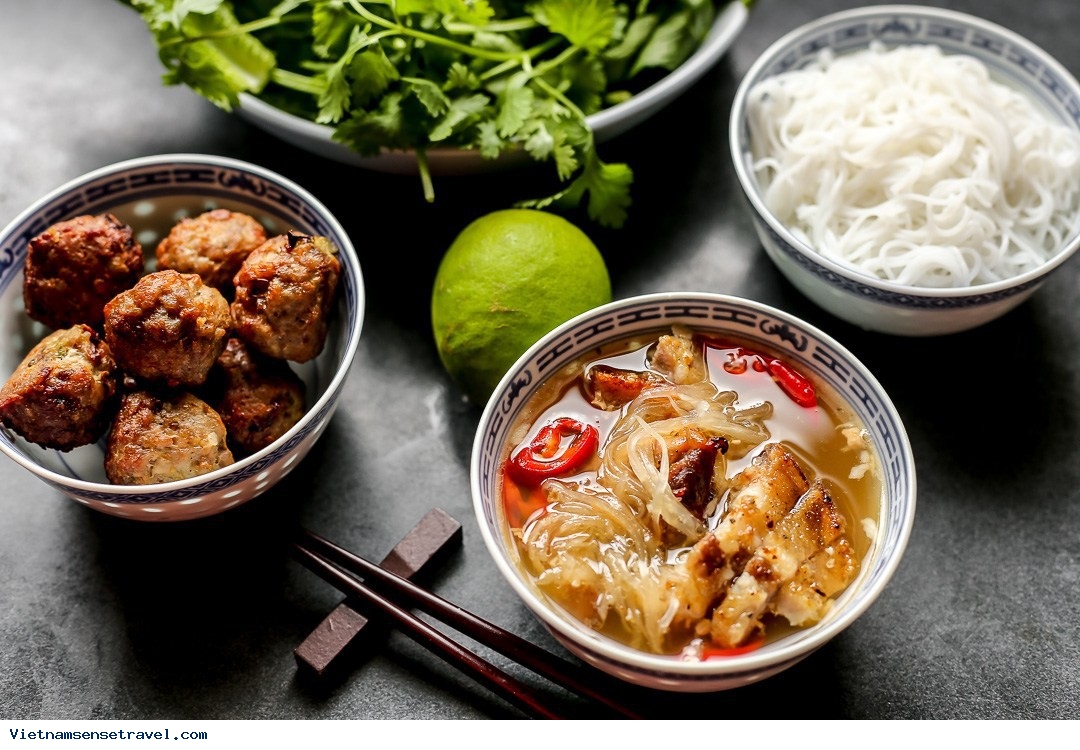 Basically, a complete Bun cha set includes a plate of fresh noodle, a bowl of sweet and sour fish sauce with papaya and carrot which were slightly fermented, seasoned with chilli and garlic to make the taste stronger. All of them were placed on a small flat basket with veggies and local herbs on a corner. Normally there are 2 choices of meat which are grilled pork meat balls or grilled sliced pork. They will put the meat into the sauce before you eat. The theory of balance are applied perfectly in the dish with meat and veggies to be eaten with.
Where to find:
• Bun cha Huong Lien (Bun cha Obama), 24 Le Van Huu street, Phan Chu Trinh, Hai Ba Trung district, Hanoi
• Bun cha 27 Dao Duy Tu, 27 Dao Duy Tu street, Hoan Kiem district, Hanoi
BÁNH CUỐN (STEAMED ROLLED RICE CAKES)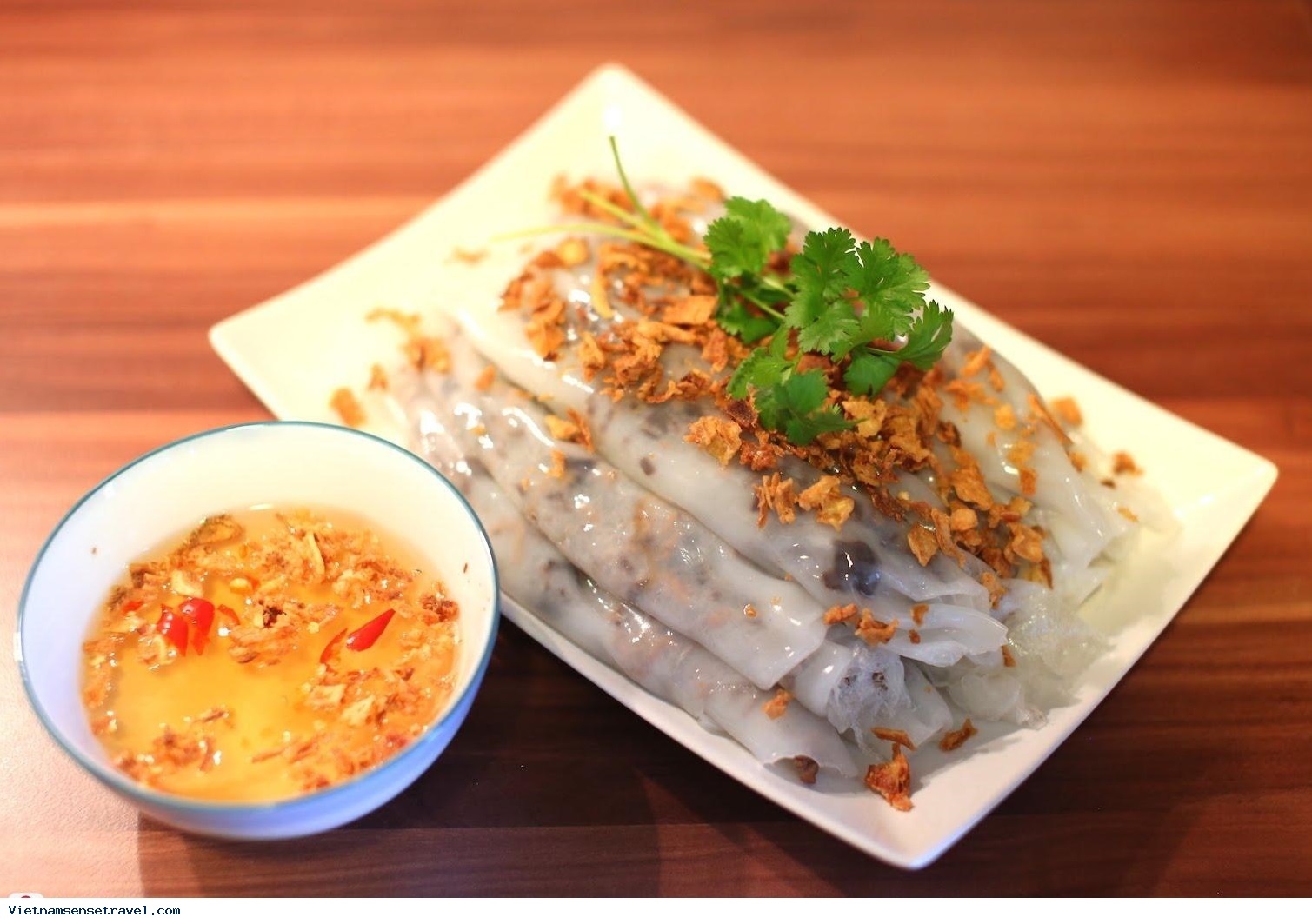 This dish got you addicted! It is simply a pancake slightly boiled in a special steaming pot, taken out while still hot, then they add fried onion and meaty part to it, then they serve it with fish sauce and veggies. You never know why you just keep swallowing and swallowing, and order the next plate without notice!
Where to find:
• Banh cuon Ba Hoanh, 66 To Hien Thanh Street, Hoan Kiem district, Hanoi
• Banh cuon 101 Ba Trieu, 101 Ba Trieu street, Hoan Kiem district, Hanoi
BO BIA NGOT (SWEET ROLL WITH COCONUT AND SESAME SEEDS)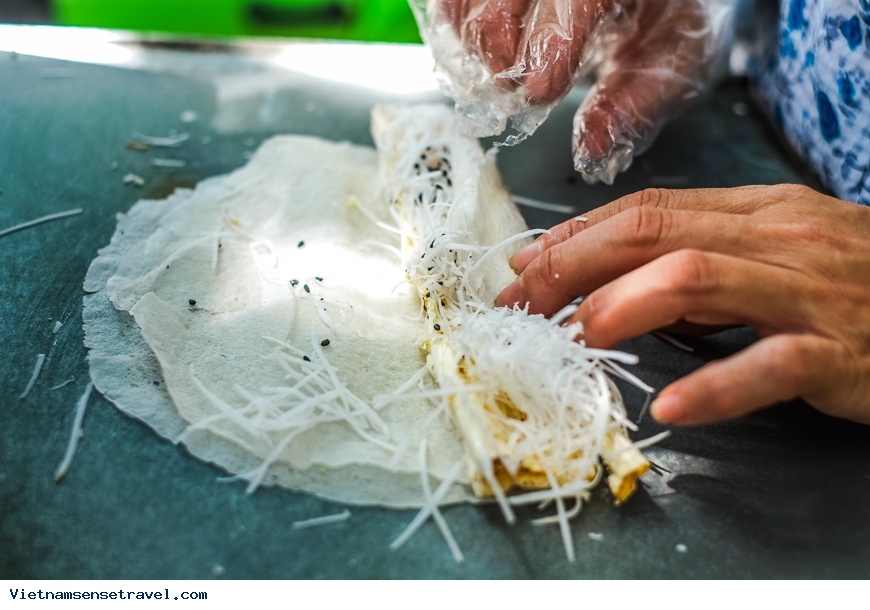 Rolls, rolls, rolls everywhere! In Vietnam, we roll almost everything. We believe the food tastes its best when you can enjoy the flavors of all ingredients at the same time. These sweet rolls give you a refreshing taste with fresh coconut and sugar bar, adding a bit of greasy and aromatic feeling from sesame seeds.
Where to find:
• Along Thanh Nien street, West Lake, Tay Ho district, Hanoi
CAFE TRUNG (EGG COFFEE)
Not anyone can try this drink because they are afraid they're gonna be poisoned by raw egg. Trust me, it tastes like cappuccino and anyone hardly got a stomachache just because of a raw but delicious egg! In the past, due to the lack of condensed milk, Vietnamese people blended the egg yolk strongly to mix it with coffee, and now it becomes a popular drink for people, especially Hanoian in the winter.
Where to find:
• Cafe Giang, 39 Nguyen Huu Huan street, Hoan Kiem district, Hanoi
The narrow land of Vietnam bring taster a spicy taste of cuisine, but actually compared to Vietnam's neighbor like Thailand, the spice is just like a bite of a fire ant. Central people eat spicier than Northern people and Southern people. They had "chilli things" in every single dishes, which can be fresh chilli slices, chilli powder, chilli sauce or salted or fermented chilli.
BUN BO HUE (HUE BEEF NOODLE)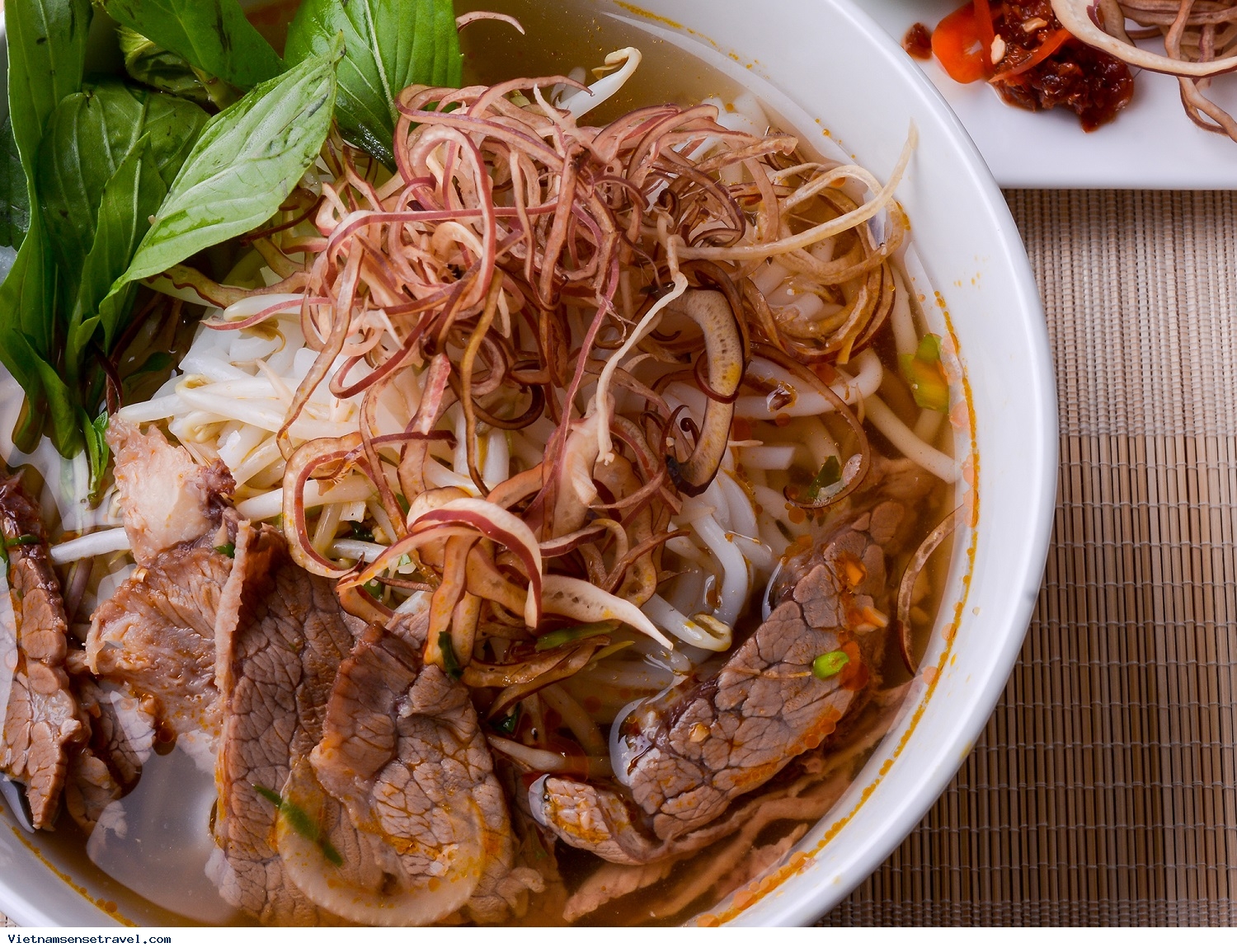 Bun Bo Hue, a soup that starts with pork and beef bones, gets a kick from lemongrass, annatto and shrimp paste, and finishes the job with a tangle of herbs, a squeeze of lime and a few delicious add-ons like sliced brisket, crab balls and, in some cases, cubes of congealed pig's blood, is a popular dish of Central Vietnam. The strong and distinguishable taste of Bun Bo Hue among several type of noodle in Vietnam is the reason why it became popular. Roll a full chopstick of noodle, pick a beef slice then finish with a spoon of soup, then "phew"!
Where to find:
• Bun bo Hue ba Xuan, 17 Ly Thuong Kiet, Hue city
• Bun bo Ganh, 100a Cao Thắng, District 3, HCM city
• Bun bo Hue O Uong, 546 Lac Long Quan street, Tay Ho district, Hanoi
MI QUANG (QUANG NOODLE)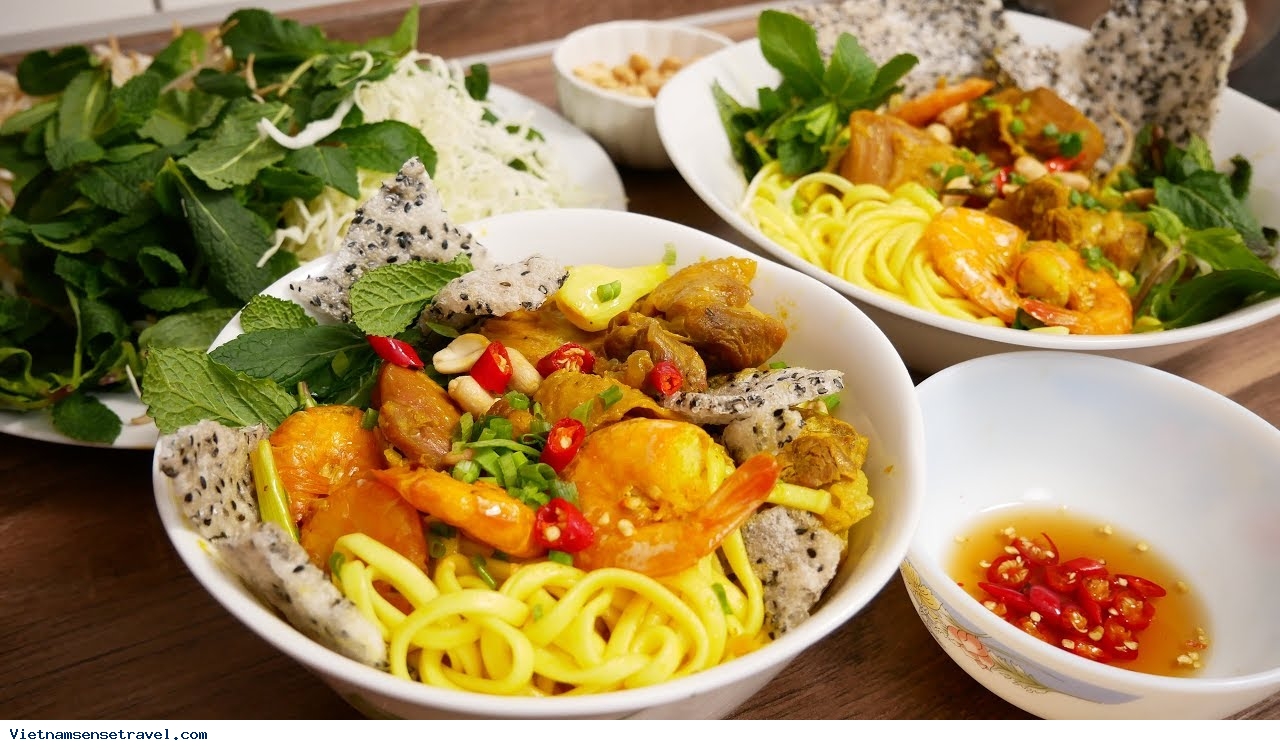 The noodle is yellow or white in color and made from rice flour. It is mixed with shrimp, pork and vegetables, and topped with grilled rice paper and spices. The mystery of the Quang noodle is in Quang noodle sauce. This makes the stock slightly sweet and a smidgen spicy.
When you eat it, you can feel the crispy sound from the grilled rice paper, a spicy and sweet taste from the soup, and the smooth swallow of Quang noodle.
Where to find:
• Tam Quan, Ngoc Khanh street, Ba Dinh district, Hanoi
• Mi Quang Ong Hai, Hoi An ancient town, Quang Nam
• Mi Quang Sam, 8 Ca Van Thinh street, Tan Binh district, HCM city
BANH CAN (CAN CAKE)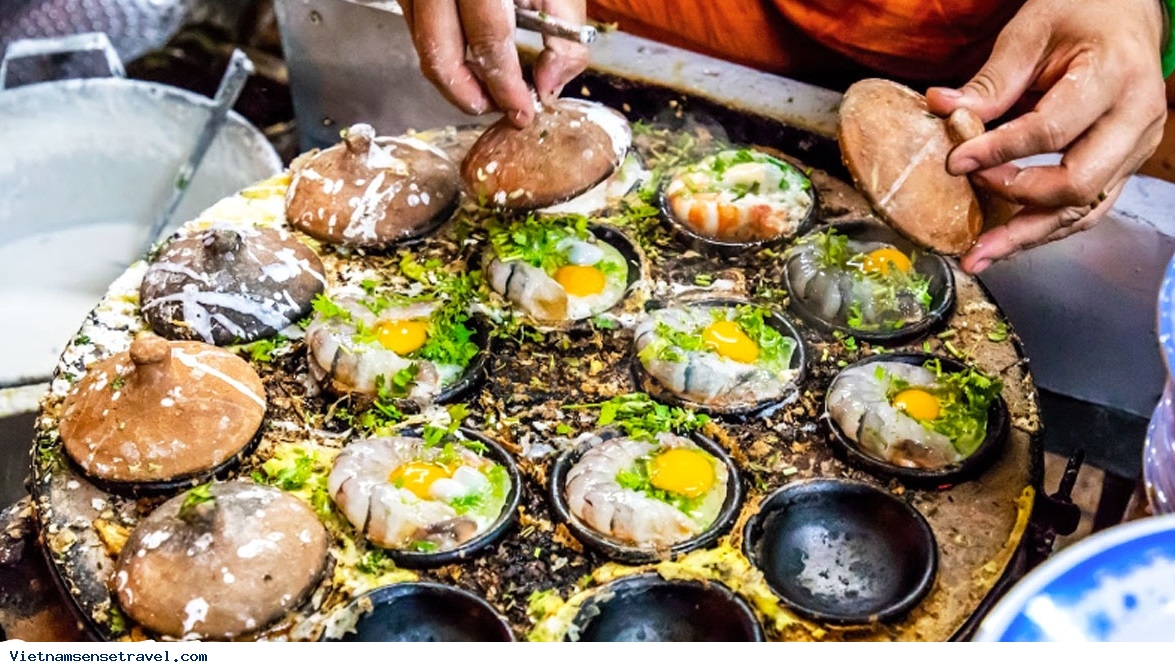 Can cake is a popular snack in Coastal Central of Vietnam. You can find it anywhere in Khanh Hoa, Ninh Thuan, Binh Thuan province. Enjoy Can cake in the morning is the best feeling you can have when enjoying a dish! The cool weather of dust blend so perfectly with the warm of the cake the slight aroma of rice powder. This dish is even better when it is eaten with fried onion.
THIT NUONG ONG LO (MEAT GRILLED IN BAMBOO CYLINDER)
If you want to try this dish, it could take you a while to wait until the dish is served, like about 30 minutes after the order has been confirmed. Yet it is worth a wait since it gives you both the curiousity and the amazing taste. It is firstly presented to you in a shape of a bamboo cylinder which has been burned harshly. But after you open it, you will never be disappointed because of the incredible smell. The meat (normally pork and beef) was blended and mixed so well with all of the ingredients and seasonings like lemongrass, ginger, pepper powder and local herbs…
Where to find:
• Cho Que Restaurant, 163 1, Hoang Ngan, Trung Hoa, Cau Giay, Hanoi
• Pleiku city, Gia Lai
CAFE DEN TAY NGUYEN (HIGHLAND BLACK COFFEE)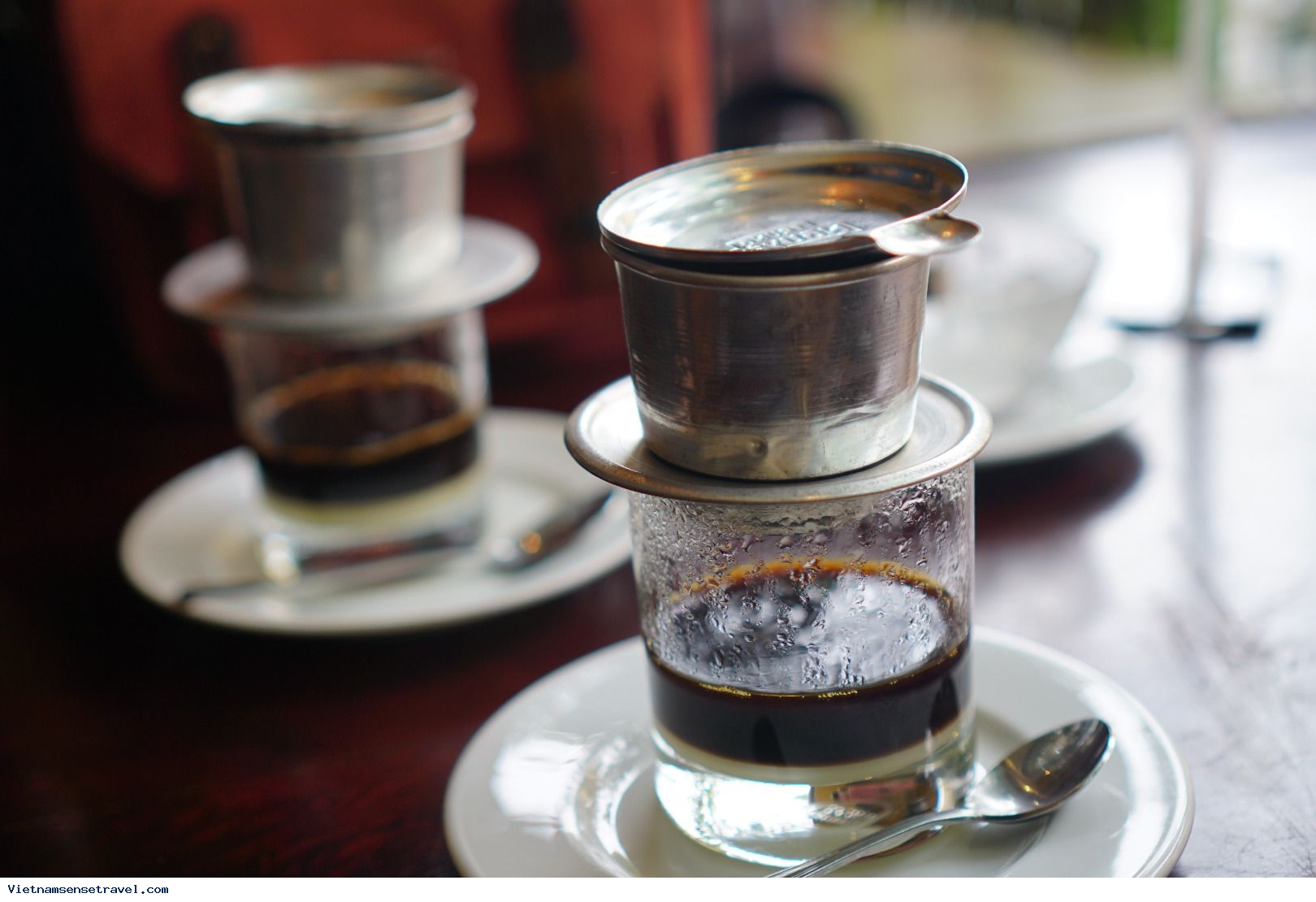 Anyone when coming to highlands of Vietnam wants to try the authentic coffee here at least once, then fall in love with it. To be honest, it cannot be defined by any clear definition but you'll never forget it if you've taken a sip of highland coffee. Explaining about this special thing, coffee lovers all over the world say it might because of the soil (bazan) and the altitude of the region has created the unique flavor for it.
Where to find:
• Trung Nguyen Coffee Village, 149-153 Ly Thai To, Tan Loi, Buon Ma Thuot city, Dak Lak
If you love sweet things, come to the South, seriously. They are sweet both in their personalities and even in their cuisines! The hot weather in the whole year is tiring already, so they made other things to be easy and sweet, such a great solution!
HU TIEU GO (CHIMING NOODLE)
Throughout decades with ups and downs, "chiming" noodle has still been a cheap and popular street food among the blue collar society, and now presented as an interesting culture instinct of Ho Chi Minh city and other Southern regions at night.
Mentioning about chiming noodle, people will imagine a scene of Sai Gon (Ho Chi Minh city) at night. There are narrow streets, an instant shop is set up simply with a smoking and boiling soup pot, and several small trays of ingredients. That image with a chiming sound starts to draw notice of people in every corner of Sai Gon at a late night.
The most highlight of the dish is the soup, of course and obviously in every Vietnamese soups. It was make of pork bones and vegetables, therefore even though the meat part of Hu tieu is not that much, people still enjoy the flavour.
Where to find:
• Hu tieu go, 154/56 Pham Van Hai, commune 3, Tan Binh district, HCM city
• Hu tieu go, 197 Ton That Thuyet street, commune 3, district 4, HCM city
BANH XEO NAM BO (VIETNAMESE SOUTHERN PANCAKE)
Bánh xèo – also known as crispy Vietnamese pancake, crepe or sizzling cake – is a famous street food which is widely believed to originate from France during its occupation of Vietnam. The word xèo depicts the sizzling sound when pouring the rice batter into the hot skillet.
One bite of the crispy pancake folded around ample fillings, and you'll know why. They are indeed a very happy (and tasty) pancake!
Where to find:
• Banh xeo, 172 Doi Can street, Ba Dinh district, Hanoi
• Banh xeo, 46A Dinh Cong Trang, Tan Dinh, district 1, HCM city
BANH TRANG TRON (MIXED SLICED RICE PAPER)
The soft and stretch of sliced rice paper, the sour of mango slices, the spice and smell of dried beef, with an aroma of Persicaria odorata (Vietnamese coriander), all of them mix together and makes Banh trang tron the most delicious street snack of Southern Vietnamese.
Where to find:
• Banh trang tron, 20 Hang Trong, Hoan Kiem district, Hanoi
• Banh trang tron chu Vien, 38 Nguyen Thuong Hien street, commune 5, disttrict 3, HCM city
CUT CHIEN BO (BUTTER FRIED QUAIL)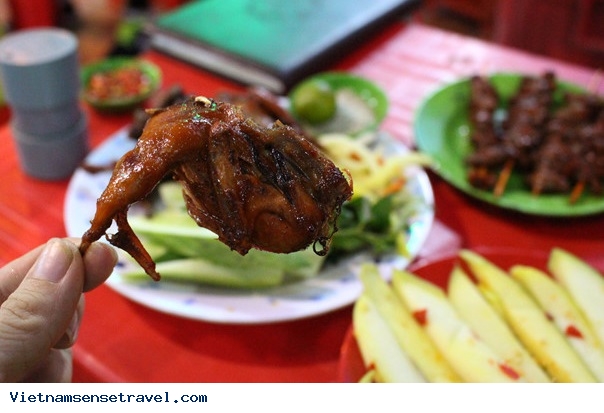 A dish which has recently became popular among Southern Vietnamese is butter-fried quail. They love it because quail has absorbed the season so well, and the smell of butter even makes it craving more. Eat this with cucumber, and breads with sweet and sour sauce is enough for a hang out with your friends in the South of Vietnam.
Where to find:
• Cut chien bo Co Nam, 54 Dong Nai, commune 15, district 10, HCM city
BO BIA (SAVORY ROLL WITH JIMACA AND SAUSAGE)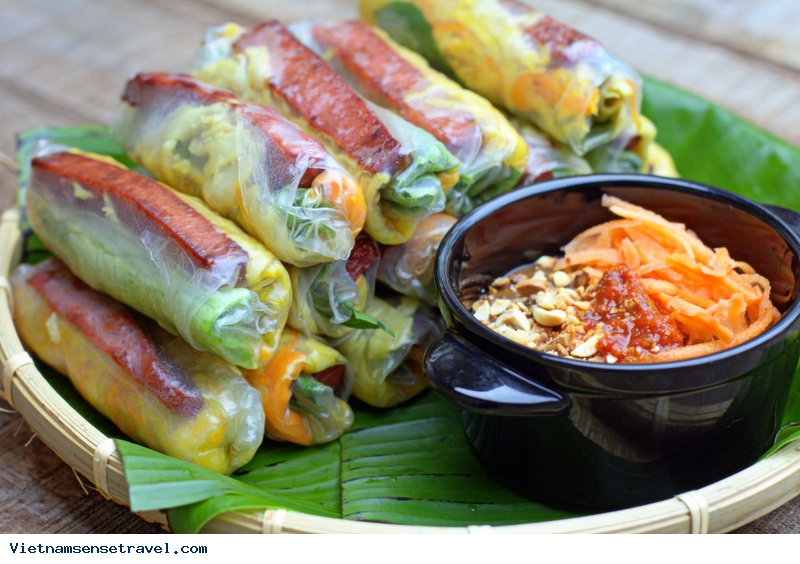 Savory roll is a favorite street food because it is a perfect combination between veggies and meats. Let's see what we have here for the balance in the dish: carrot, jimaca and lettuce; then fried egg, sausage and dried shrimp. Slice everything, roll, then dip the roll into the sauce. Well, just enjoy the taste for a while, don't be so rush this time!
Where to find:
• Ly Bo Bia, Nguyen Van Giai street, district 1, HCM city
CAFE SUA DA (VIETNAMESE ICED COFFEE WITH CONDENSED MILK)
The famous and classic drink has long been part of the daily routine of the people of Saigon, the old name of Ho Chi Minh City many still prefer now.
Be they college undergrads, office workers or blue-collar employees, young people in the vibrant city love kicking off their day with a glass of milky iced coffee.
The best place for ca phe sua da should not be a fancy restaurant but a street side (often makeshift) coffee corner with low tables and tiny plastic or folding wooden stools.
Warm air and the echoing noise of traffic intensify the taste, like the special effects of a Hollywood blockbuster. The aromatic flavor actually varies based on the proportion of milk and coffee.
Where to find:
• 4A/14E Nguyen Thi Dang street, district 12, HCM city
• Along Bui Vien street
BANH MI – THE "ANYWHERE" STREET FOOD OF VIETNAM
There is one dish we would like you to try in every places you go travelling in Vietnam, along with coffee as a drink company. It's Banh Mi. It could be called Vietnam Banh Mi discovery. That Banh Mi – Top Street Food in The World is separated from other popular Vietnamese street food is because you can find it everywhere in the country, and they are just so delicious in their way, in a local taste and a few words cannot describe their incredible bites.