The limestone cave of Tien is situated in Cao Quang Commune, Tuyen Hoa District, Quang Binh Province, fascinating those who love natural wonders and exciting experiences. 
Tien Cave was first explored by British Caving Association in 1994 and officially became a unique tourist attraction in 2015. This is a dry spiral-shaped cave linking with Tu Lan Cave, about 100km from Phong Nha Cave. The cave is hidden between huge mountain ranges and dense jungle canopies. It offers opportunities to get in touch with the natural world, trek through forest trails, cross streams.
With a total length of nearly 3km, Tien Cave consists of two branches: Tien 1 and Tien 2 separated by a primeval forest of many ancient trees. Because of the geological structure, the two branches of Tien 1 and Tien 2 are divided into many sections, with ceiling height of 30 - 100m.
The entrance to cave of Tien 1 is 70m high and 50m wide. It is highlighted by piled-up stalactites as the terraced fields and a giant stalactite pillar covered with moss. The sunlight shining inside the cave facilitates verdant growth of flora, creating magnificent colorful natural scenery.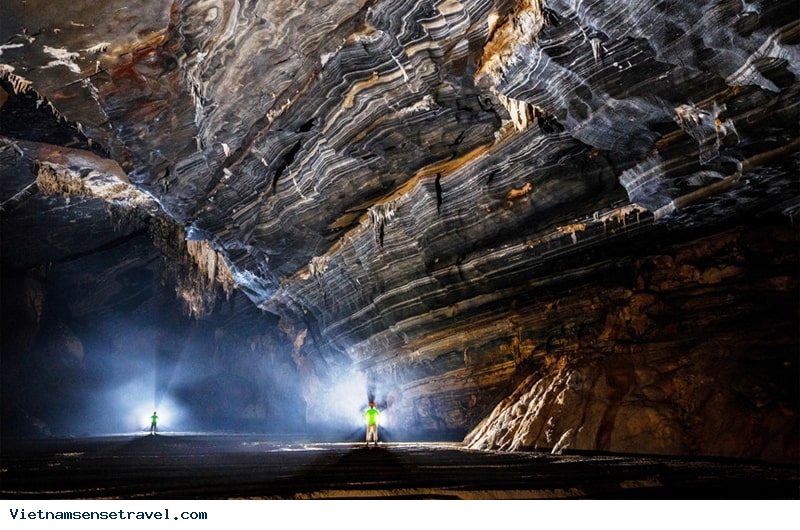 The cave of Tien 2 is the last part of Tu Lan cave system, located outside Phong Nha - Ke Bang National Park. The cave of Tien 2 boasts 2,519m length and the maximum depth of 94m below ground surface. Its entrance is quite narrow with about 3m in height and 1.5m in width. There is a stream before the mouth of the cave. The main dome of the cave is about 400m long and 30m high. It is particularly endowed with strange stone veins on the cave ceiling and many wonderful stalactites.
Visitors should not miss various soft adventure itineraries to discover Tien Cave, including same-day tour, tour of 2 days 1 night, and tour to Tu Lan Cave in Phong Nha - Ke Bang National Park, which are organized throughout the year excluding September and October when water level rises due to heavy rains and floods.