The popular resort town of Phan Thiet in Binh Thuan Province, south central Vietnam offers a range of delicacies, from sweet to savory.
Fish cake noodles
A Phan Thiet specialty, the dish is made from fresh fish caught in the local sea. The flesh is used to make the cakes while the bones are stewed along with pork bones to make the broth flavorful. A bowl consists of noodles, fish cakes, pork ears, pork cakes, pig blood, cilantro, green onion, and black pepper. The eye-catching dish is served hot.
You can find the dish at markets and sidewalk stalls in Phan Thiet for VND15,000 - 35,000 a bowl ($0.7-1.5).
Some local recommendations are Xiu stall at 1 HA Kim Dong Street, Ly's stall at 566 Tran Hung Dao Street and Dung's stall at the intersection of Vo Thi Sau and Ton Duc Thang streets.
Banh can pancake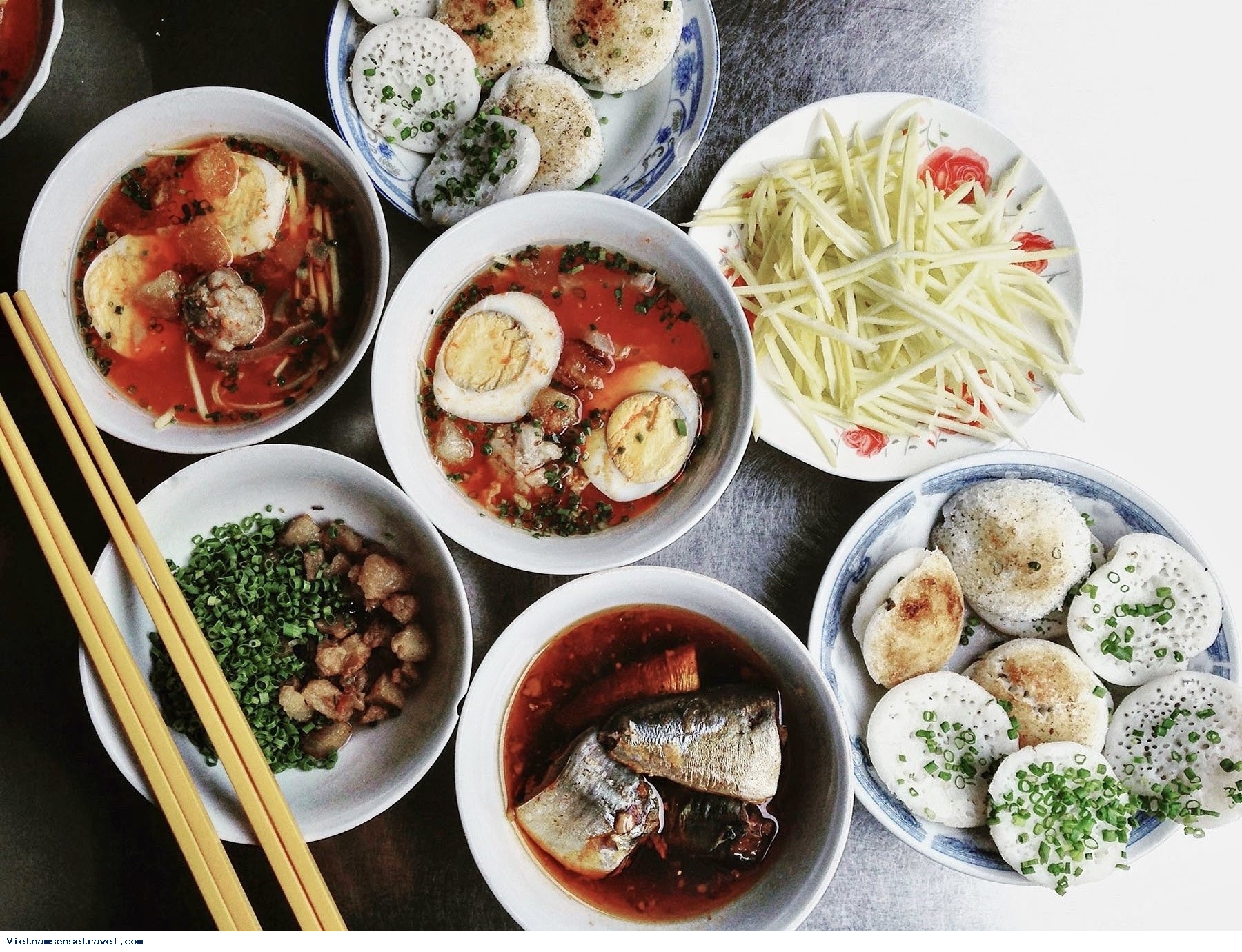 Made in clay molds, banh can or braised rice pancake is the most popular treat in Phan Thiet.
The savory mini pancake is made from rice flour. The flour is baked and there are pieces of scallion between every two pancakes. Banh can goes well with braised fish, boiled eggs and meat balls. Additional greens include chopped green mango, star fruit, cucumber, basil, and lettuce.
A portion with all ingredients costs VND35,000-50,000 ($1.5-2.2).
Recommended eating places include stalls at 168 Thu Khoa Huan and 8 Hai Thuong Lan Ong streets.
Banh mi fillings in a cup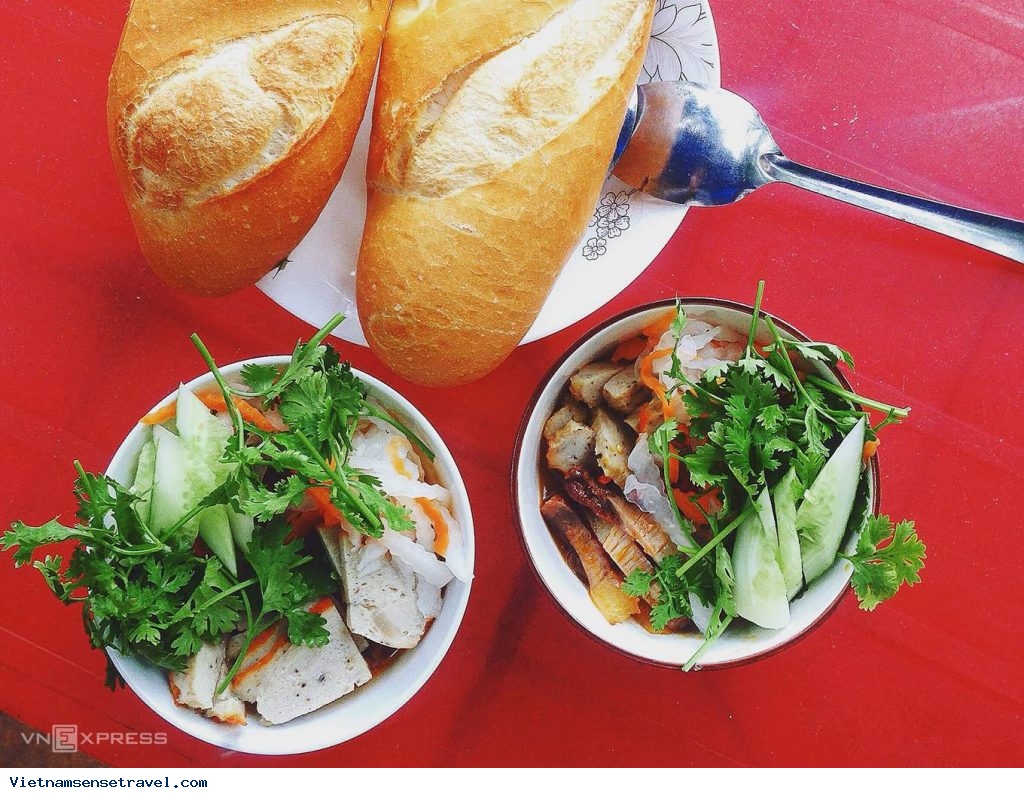 Unlike the usual pate filling, banh mi in Phan Thiet is often accompanied by fish cakes, shrimp cakes, meat balls, and boiled eggs. What makes it interesting is that the fillings are not placed between the bread but in a cup and topped with hot sauce.
For VND10,000 - 15,000 ($0.4- 0.7) you can buy one with all kinds of fillings at many sidewalk banh mi trolleys in the morning and shops on Nguyen Hue Street in the evening.
Beef noodles with coriander
Beef noodles or bun bo in Phan Thiet consist of congealed pig's blood and thinly sliced beef, but what differs from the typical bun bo Hue, the original beef noodles from central Vietnam, is that it is served with rau ram or Vietnamese coriander.
A popular place for this dish is a 65-year-old restaurant at 469 Tran Hung Dao Street, which opens from 6 am to 10 am.
Banh xeo pancake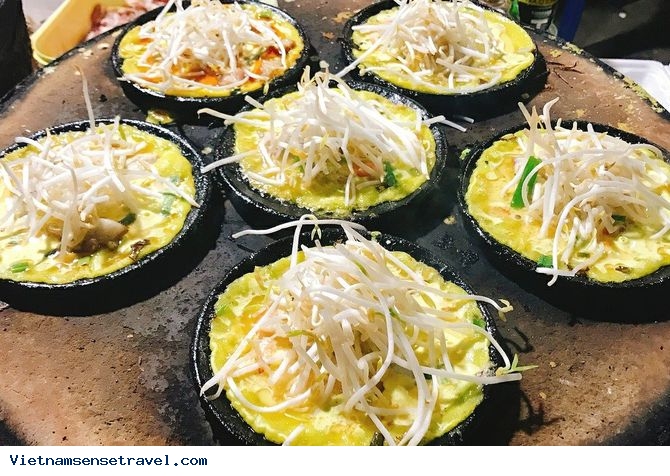 Shrimp, squid, and/or pork, mung beans, and bean sprouts load the yellow banh xeo with flavors and textures.
It is served with leafy vegetables and a fish sauce dip. The combination and sequence is your choice, but a good idea is to take a large enough mustard leaf in one hand, tear off a piece of the stuffed pancake with the other, add a few greens (perilla, basil, mint etc.), roll the whole thing, dip it in the fish sauce, and take a bite.
Tuyen Quang Street at the center of Phan Thiet Town is dubbed banh xeo street for its profusion of stalls selling the dish. A piece costs VND5,000-7,000 ($0.2-0.3).
Squid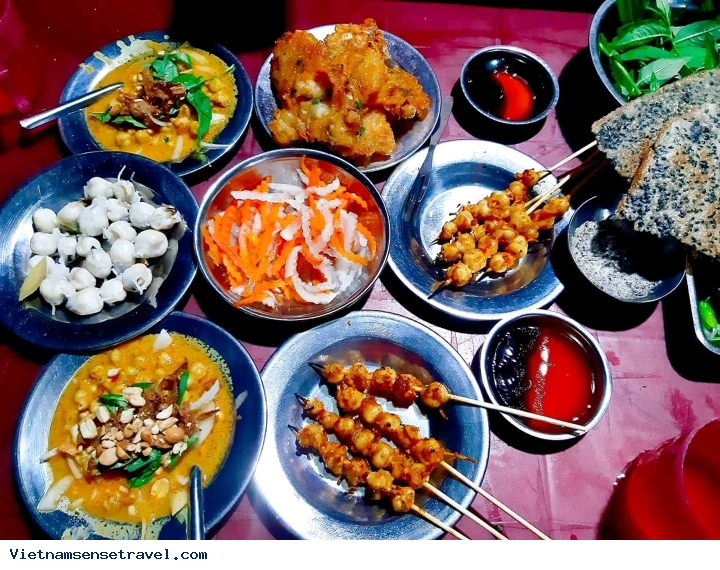 Locals call it rang muc, or the flesh atop the head of a squid which Phan Thiet has made it a specialty for its delicious taste and interesting texture.It is either grilled, steamed, or fried and served with pickles, Vietnamese coriander and green peppers. 
Plenty of seafood restaurants sell the dish along the banks of the Ca Ty River, on Nguyen Tat Thanh Street, and food street Vo Thi Sau. A dish costs VND10,000 - 15,000 (less than a dollar).Cooks also make squid cakes out of the particular kind of meat.
Caramel flan
The caramel flan shop opened nearly 40 years ago by Mong Cam is a popular spot for flan lovers.The flan is shaped like a small piece of cake instead of the usual round shape.Its soft and creamy texture and a tad of sweetness melt at the tip of one's tongue.A flan like this costs VND25,000-35,000 ($1-1.5) at Mong Cam shop at 394 Tran Hung Dao.
The caramel flan shop opened nearly 40 years ago by a woman called Mong Cam is a popular with lovers of this dish. The flan is shaped like a small piece of cake instead of the usual round shape. Its soft and creamy texture makes it melt on one's tongue.
A flan like this costs VND25,000-35,000 ($1.1-1.5) at Mong Cam's shop at 394 Tran Hung Dao Street.
Vnexpress